My name is Henrik Brandt and I live in the beautiful city of Copenhagen, Denmark with my family and a great Golden Retriever called "Harley". Quality of life is amazing here in Denmark – and we're generally regarded as one of the happies nations on Earth.
In 2016 I became even happier, when I discovered American whiskey. I had been avoiding whiskey for the longest time, as the smokey, tarry and malted notes were not compatible with my taste, it seemed. I had, of course, been trying to drink either very cheap blended or peated Scotch whisky.
Little did I know (back then) how many amazing experiences were waiting for me, when I would discover American whiskey.
The US has always been my home away from home; I have visited ALL 50 states during my 60+ visits – and today I have close friends scattered across the country. So it was almost a match made in heaven, when it turned out that Bourbon and Rye were the kinds of spirits I had REALLY been waiting for.
Since my "discovery" in 2016, American whiskey has been my overarching hobby and I spend a considerable amount of my spare time pursuing this. In 2019 I published the first ever book on the topic in Denmark – and together with a friend I run one of the largest American whiskey review sites in the world, outside the US. I also do a ton of tasting events where I take the audience through a Bourbon 101, while sipping and sampling great whiskey products. I'm always looking forward to whiskey tastings, as people generally seem to be in a good mood. And as a final note, I'm admin of the "Nordic Bourbon Community" Facebook group.
And now I'm doing a Bourbon School, on top of everything else!
If you wonder why I'm doing this for free – especially due to the number of hours that go into research and video creation – there are really two simple answers:
The first one is that this is my way of paying it forward; Everyone in the whiskey industry has been incredibly helpful to me and almost everyone has welcomed me with open arms. As you will be able to see from the gallery below this note, I have had the great fortune to meet some amazing people who, despite being very busy, have set time aside to meet with me.
The second answer is the obvious one: Sharing is caring. If my videos can help increase awareness about American whiskey, then I could ask for no more.
Since the start in 2016, I have accumulated (status per July 16th, 2022) 327 bottles, whereof 137 are open. The availability of Bourbon and Rye in Europe is underwhelming, to say the least, but I'm blessed in the sense that I visit the US 2-3 times a year – and not least having a number of "Bourbon mules" in the form of colleagues, who visit the corporate HQ of my firm in Copenhagen.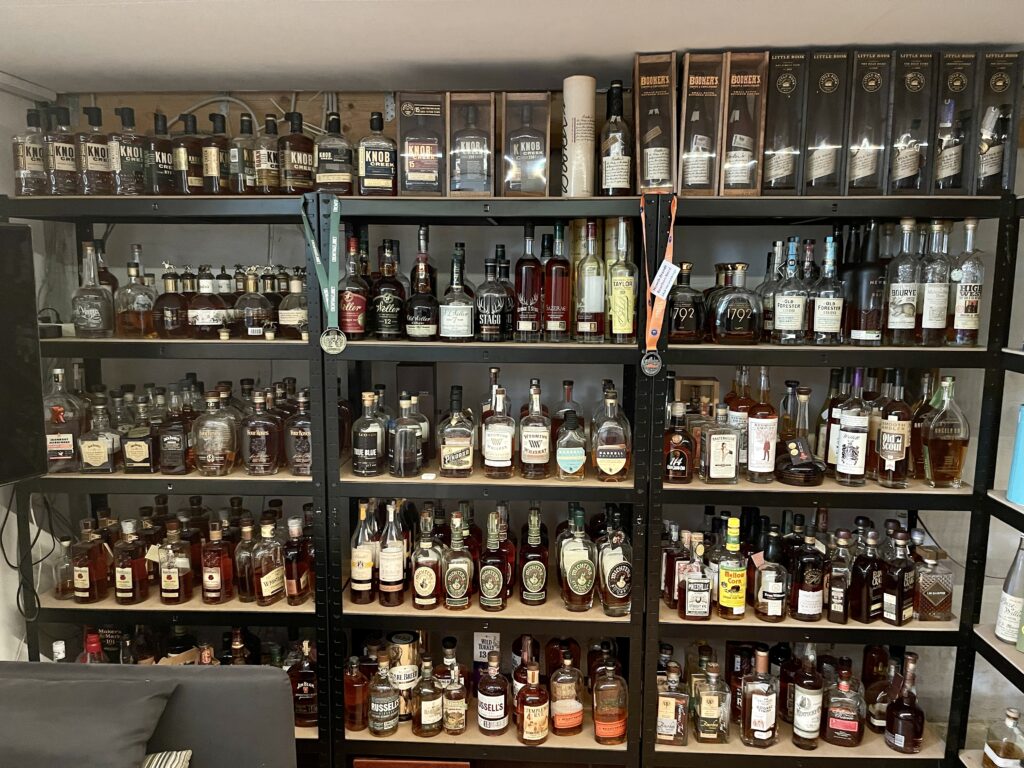 The Bourbon School is a number of video lessons that lasts between 10 and 20 minutes each. I have currently planned for 30 lessons – but there may be even more in the future. If you want to see the planned list, you can visit the page called "Upcoming lessons".
If you have suggestions for new lessons, comments, correction, etc., I would love to hear from you. Feel free to send me an email on henrik@thebourbonnerd.com or simply leave a comment here on the page.
My only ask of you: If you like the content, please subscribe to my YouTube channel – and of course I would appreciate if you told a friend
Cheers!
My "paying it forward" gallery
(This is not to brag about people I met, but about highlighting whiskey people that has been nice to me)